Everyone on your staff that you will schedule appointments with using SUMO requires a contact.  Out-of-box when you create a contact with record-type = "Provider", SUMO will put these contacts under an account called "Providers".  This is called the Provider Bucket Model, because we are putting all providers, as contacts, into the Provider account.
If you do not wish to do this, for instance, perhaps you already have contacts under your Company Account, then you may turn this off.  Follow these steps to do so: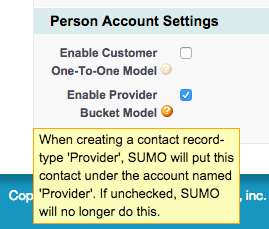 Login to SUMO
On the main tab nav bar, click the All Tabs +.
Scroll down and click on SUMO Admin Settings or SUMO Settings.
Scroll down and find the "Enable Provider Bucket Model" checkbox and uncheck this.
Click Save.
PAGE LAYOUTS – You will also need to add the field "Is Provider" to the Contact Page Layout, to confirm that this checkbox is checked.