What are the Traffic Lights?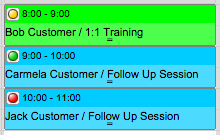 When you look at appointments on the calendar, you will notice an icon which changes between green, yellow, and red.  This indicates whether the appointment participants have confirmed they will be attending the appointment.  For instance:
Bob has not accepted or rejected the meeting, so it is yellow.
Carmela has confirmed / accepted the appointment, so it is green.
Jack has rejected / declined the appointment, so it is red.
How do the Traffic Lights change?
On Calendar – A SUMO Desktop user can click on an appointment, then click on a participant, and click YES or NO to confirm/decline this participant.
Via Email – A participant can reply to the email reminder with CONFIRM or DECLINE in the email subject.
What about providers, do they CONFIRM / DECLINE?
SUMO is configured out-of-box to not require the providers to CONFIRM / DECLINE.  They are assumed confirmed by default.  If you would like to change this configuration, contact SUMO Support and we can help you out.